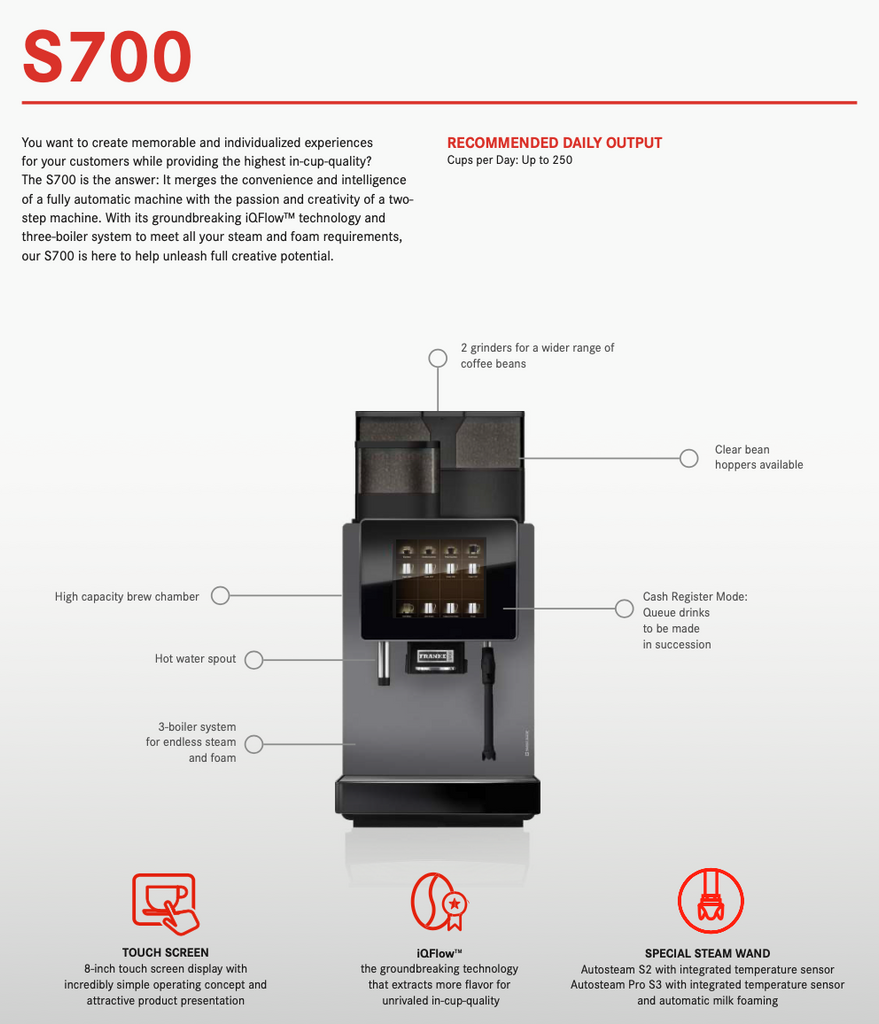 $12,200.00
$0.00
Franke S700
This is not your typical semi-automatic espresso machine. The Franke S700 Semi Automatic takes the efficiency of a two-step super-automatic machine and enhances the barista's control of the final product. The S700 Semi Automatic comes equipped with integrated dual hoppers and grinders for streamlined coffee production. Just touch a button and the machine will grind the coffee and pour your espresso shots.
Unlike a one-step machine, this model relies on the barista to steam the milk (with automatic milk frothing, but manual guidance). This is how the S700 Semi Automatic achieves a quality of microfoam specifically for latte art. The addition of iQFlow technology ensures full control of the flavors extracted from the coffee, replacing the need to fiddle with grind settings to get the same results.  All in all, this machine is perfect for cafes looking for a machine that supports extreme efficiency and gorgeous latte art.
Automatic coffee machines – Perfect coffee enjoyment at the push of a button.  Contact us to schedule an appointment at our private showroom, currently on display is the A1000.  As the Upper Peninsula's only factory trained Franke sales and service provider, we're proud to offer free installation, service contracts, and extended warranties. Request a quote before ordering to confirm proper configuration.  
Financing as low as $426 / mo